# Widgets
Widgets allow you to create encapsulated micro frontends for your sites and applications.
When entering the Widgets section in a site, you can see a list of every created widget. In the upper bar you can filter the widgets by state, author, tags, or by text search by the name of the widget.
In the widget editing view, you can see three areas: the top action bar, the main work area and the properties column on the right.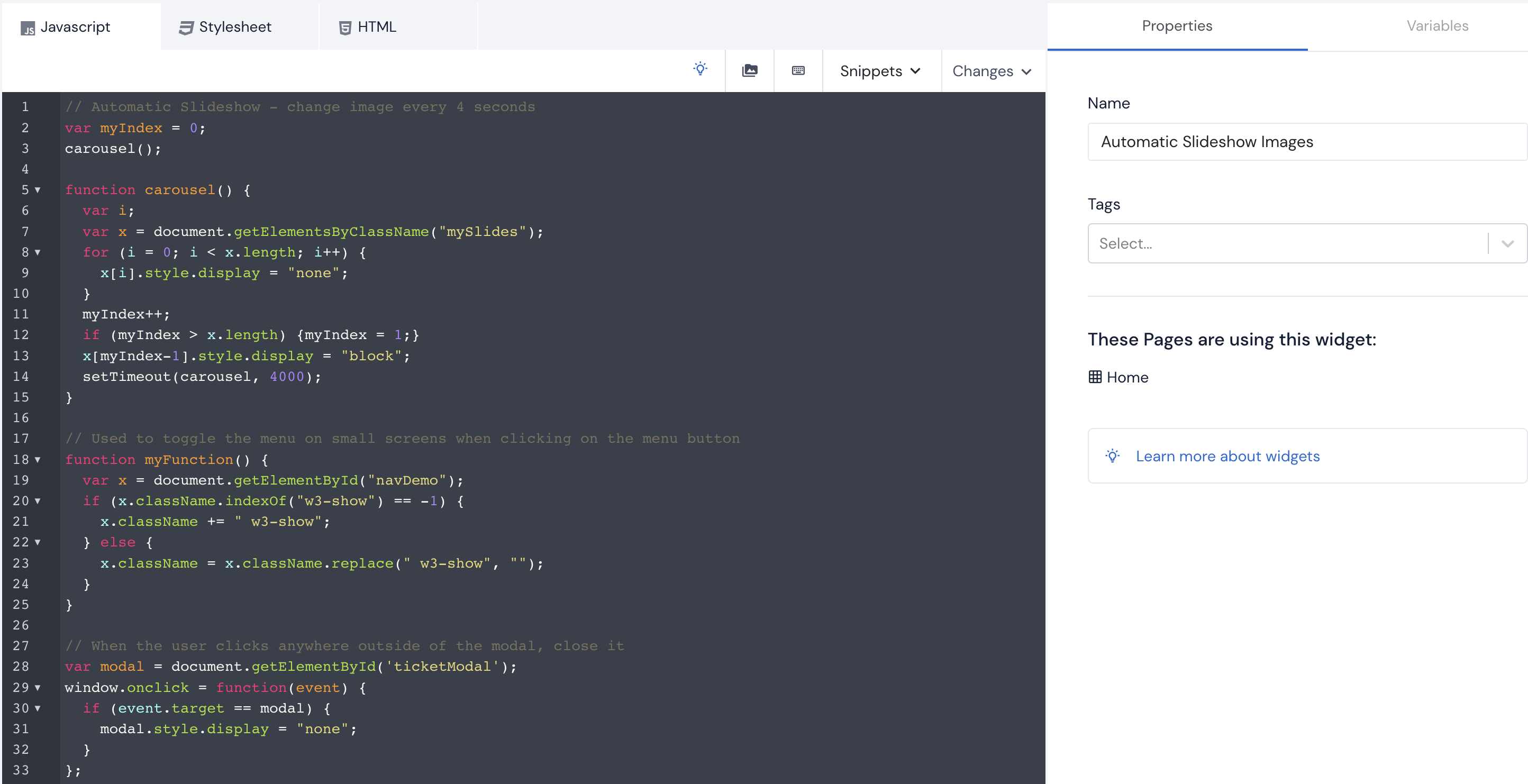 Along the top bar, on the left, you can see the widget name and current status:
Draft: This status means a widget is new or is unpublished.
Published: This status means a widget is published and the version in the editor contains no unpublished changes.
Pending changes: This status means there is a published version of a widget, and the editor contains unpublished, pending changes.
In review: This status means team review is enabled and this widget is in review.
Approved: This status means team review is enabled and a widget passed the review process. You can now publish this widget.
On the right, these are the different actions: Preview : This allows you to open the preview of the widget's editable version in a new tab.
Warning
You can preview widgets as a user without a session or with a Modyo session. For this, it's recommended to log in or out of Modyo from your site before entering preview mode, because if you log out in preview mode you might encounter security errors like x-frame-options or mixed-content, depending on your site's SSL and custom domain settings.
Differences : Clicking this icon opens the differences view in which you can see the differences between multiple versions of a widget.
By default, you see the differences between the published version and the editable version you are currently working on, but you can use the selectors to compare older backed up versions as well.
Activity : This displays a sidebar with the widget's activity history and comments. At the bottom of the sidebar, you can submit comments. Next to each activity, click on "see detail" to show the complete information of an activity log.
Other options : Archive and create a copy of the current widget.
Main button:
Save: Saves current changes.
Send to review: Changes the widget status to "In review". You can continue making changes, but each change sends a notification to all assigned reviewers via email.
Publish: Once reviewers approve the widget, you can go to the publish view to review and publish changes across the site.
Other main actions
Unpublish: If the widget is published, you can take it out of production using this option.
Force Publish: Admin team members have the option to forcibly publish widgets, circumventing the established reviewal process.
Tip
Only unpublished widgets can be archived.
Tip
Archived widgets do not appear in the main widget list or in the Custom widget selection in Page Builder. You can restore an archived widget by editing it and using the restore option in the upper right corner of the editing view.
Once a widget is published, it is available as a custom widget in the page builder.
Tip
To learn more about publication lifecycles in Modyo, review the Versioning section.
In the main work area you can see the following:
Code Tabs: A JavaScript, CSS, and HTML tab is available to build widgets.
Asset manager: Opens a modal that lists all account files and provides filters and searching. Clicking the image preview or file name opens an editor where you can resize/crop the image, and change attributes such as the title or alternate text. Selecting the copy icon provides you with a URL you can paste, and you can select the "Upload files" tab to upload files. You can learn more about By clicking on it, you will raise the file management modal, where you can filter and search the files you have uploaded in the File manager and copy its URL to use them in your widget. You can also upload new files from this modal.
Shortcuts helper: A small pop-up that displays useful keyboard shortcuts for the Widget Builder.
Snippets: Displays a list of snippets available from the Template Builder and copies their code to reference them in the widget.
Changes: If changes have been saved and not published, it will display this list of all the times saved each file (JS, CSS, and HTML). Clicking on a sub-version changes the contents of the tab to the content of the subversion that was clicked.
Tip
To avoid losing any changes you currently have, be sure to save before jumping between save states. This way, you can always return to the most recently saved version in the Changes list.
Tip
If you publish a new version of your widget, the Changes list resets and erases all save states. This is because the new editable version now matches the version you just published. Saving new changes adds new save states until the next time you publish.
You can make use of Liquid in the Javascript, CSS, and HTML tabs in the widget builder. For more information check the associated Liquid documentation.
The Properties on the right contains the following fields:
Name: Use this field to update the name of your widget.
Tags: Use this field to add tags to your widget. Tagging a widget makes it easier to search and filter. As your digital channels scale in size and complexity, good tagging helps keep your channel management well organized.
Pages using this widget: You will see a list of pages that are using this widget. While viewing pages in this listing, you will not be able to download or archive the widget.
Warning
If you delete a widget from a page and publish, you will still see that page in this listing since the widget is still referenced in the backups of that page. From version 9.1.10 onwards, you can unpublish any published widget, even if it is in use. Active references on pages will become inactive, so you will not see the widget on the site if you unpublished it. Also, you will be able to archive any unpublished widget, so if there are still references on some pages of the widget you want to archive, they will be removed when you archive the widget.
# Create a Widget
To create a new Widget and have a micro frontend for your sites and posts, follow these steps:
From the Modyo Platform main menu, expand Channels, and click your site.
Click Widgets.
Click the + New Widget button.
Enter the name of your widget and click Create.
Customize your widget using HTML, CSS, JavaScript, or Liquid.
Once finished, click Publish.
# Widget variables
In the variables tab you can see the list of variables created in the widget, and their respective actions for:
Copy the liquid code to use that variable.
Edit the variable
Delete the variable.
Next to the name of each variable you will see an "overwritten" indicator if the variable also exists at the account or site level in the global variables.
When modifying a variable, you can choose the name and default value that the variable will take in the widget. In addition, you can decide if you want to make a list of values available so that when you instantiate the widget on a page, you can choose from these different values.
When you use the list of possible values, you must leave each value on a new line, and leave a * in front of the value you want to be taken as the default.
When you instantiate the widget on a page, you will see that now all variables being used (whether account, site, or widget) will be listed as "disabled" with their default value. If you want to overwrite the value of a particular variable for that instance of the widget on that page, you must select the checkbox to the left of the variable and change the value it takes.
Warning
Adding the widget on a page will list all the variables that that widget is using, so if you don't see any of the variables that are defined in the widget, chances are that the variable in the widget code is not being used.
# Synchronous and asynchronous loading
Warning
This is an experimental feature and it may be subject to changes.
You can decide whether you want to load your widgets synchronously, that is, have your widget's HTML, CSS, and JavaScript code loaded along with the rest of the page from the server, or load asynchronously, so all static content on the page will load and once the main document is loaded, the content of your widget will be loaded using JavaScript. By default, all widgets are loaded asynchronously.
To change the way each widget loads, go to the edit view of the page containing the widget, select the widget and check or uncheck the "Sync loading" option.
Warning
Keep in mind that using very heavy widgets synchronously can be the cause of bad performance in your pages, you should carefully decide which widgets will load synchronously and which ones will load asynchronously.
# Modyo CLI
The Modyo Command Line Interface (CLI) is a command-line tool based on two principles of acceleration and integration, these principles have a get and push command respectively.
# Introduction
First, you need to install the Modyo CLI globally on your local machine to have the modyo-cli command available, this will allow you to initialize a project with some predefined front-end architectural decisions, or use to initialize a widget from catalog if you have access.
To install the modyo-cli globally you must use one of these options
$ 

npm

 i -g @modyo/cli 

#via npm


$ 

yarn

 global 

add

 @modyo/cli 

#via yarn



This command will make the command modyo-cli available on the terminal session globally
The available commands are get, push and help
# modyo-cli (-v|--version|version)
Print the modyo-cli version
$ modyo-cli 

(

-v

|

--version

|

version

)


modyo-cli/3.0.6 darwin-x64 node-v12.13.1

# modyo-cli help [COMMAND]
USAGE
  $ modyo-cli 

help

 

[

COMMAND

]



ARGUMENTS
  autocomplete Display autocomplete installation instructions 
  get          Pull a widget from our catalog into a new directory
  

help

         Display 

help

 

for

 modyo-cli
  push         Push widget to Modyo platform

Tip
Options can be set in environment variables or within a .env file in the project root directory. The file method is recommended to prevent logging sensitive information.
The following list are the environment variables you can configure:
MODYO_BUILD_DIRECTORY

=

buildDirectoryPath


MODYO_VERSION

=

version


MODYO_TOKEN

=

token


MODYO_ACCOUNT_URL

=

account-url


MODYO_SITE_ID

=

siteId


MODYO_SITE_HOST

=

siteHost


MODYO_BUILD_COMMAND

=

buildCommand


MODYO_REGEX_EXCLUDE

=

regexToExcludeFiles

Tip
Options can be set in environment variables or within a .env file. The option of a file is recommended because it avoids logging sensitive information
# modyo-cli autocomplete [SHELL]
Modyo offers the ability to autocomplete the commands of our CLI if this option is configured.
USAGE
  $ modyo-cli autocomplete 

[

SHELL

]



ARGUMENTS
  

SHELL

       shell 

type



OPTIONS
  -r, --refresh-cache   Refresh cache 

(

ignores displaying instructions

)



EXAMPLE
  $ modyo-cli autocomplete
  $ modyo-cli autocomplete 

bash


  $ modyo-cli autocomplete 

zsh


  $ modyo-cli autocomplete --refresh-cache

# Instructions for using MODYO-CLI CLI Autocomplete
Add autocomplete environment variable for your zsh profile and add it to source
$ 

printf

 "eval 

$(

modyo-cli autocomplete:script 

zsh

)

" 

>>

 ~/.zshrc

;

 

source

 ~/.zshrc

Tip
After the command, you can run $ compaudit -D to verify that there are no permission conflicts.
Test that it works correctly, e.g.:
$ modyo-cli 

<

TAB

>

           

#Complete command


$ modyo-cli 

command

 --

<

TAB

>

 

#Complete option



# Get a template for a project
The Modyo CLI is designed to work based on a micro frontend architecture, which will accelerate the widget creation process.
# modyo-cli get NAME [DIRECTORY]
In general, the get command is used to obtain a boilerplate widget. If you have a token provided by Modyo, the same command can be used to pull any of our premium widgets from our Widget Library.:
USAGE
  $ modyo-cli get NAME 

[

DIRECTORY

]



ARGUMENTS
  NAME       The name of the widget
  DIRECTORY  Name of directory to init

OPTIONS
  -f, --force        Override folder 

if

 exist
  -h, --help         Output usage information
  -o, --organization 

[

default: modyo

]

 Github organization
  -x, --no-install   Don't 

install

 packages

EXAMPLE
  $ modyo-cli get name 

[

directory

]



There are some public widget names that can be accessed via this command
  EJEMPLOS
    $ modyo-cli get modyo-widgets-template-vue 

[

DIRECTORY

]

 

#to initialize a widget



From this command and on you can continue using the widget like any other vue-cli widget.
# modyo-cli push NAME
The push command is responsible for integrating the widget into the selected site on the Modyo platform.
You'll use a name argument to load the widget into the platform and some required indicators such as site_base id or host token to identify the Modyo platform that hosts the widget and have an additional indicator to avoid the manual process flow of publishing the widget.
USAGE
  $ modyo-cli push NAME

ARGUMENTS
  NAME  The name of the widget

OPTIONS
  -b, --build-command

=

build-command      

[

default: build

]

 Build 

command

 

in

 package.json
  -d, --build-directory

=

build-directory  

[

default: dist

]

 Build directory path
  -h, --help                             Output usage information
  -i, --site-id

=

site-id                  Id of the site where the widget will be pushed
  -l, --disable-liquid                   Disable Liquid
  -n, --site-host

=

site-host              Host of the site where the widget will be pushed
  -p, --publish                          Force widget publication
  -t, --token

=

token                      

(

required

)

 Modyo Api token
  -u, --account-url

=

account-url          

(

required

)

 URL of your Modyo account ex

(

"https://account.modyo.com"

)


  -v, --version

=

8

|

9

                      

[

default: 

9

]

 Version of Modyo platform

EXAMPLE
  $ modyo-cli push 

<

NAME

>